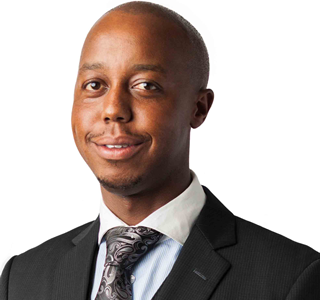 Guto Mogere
Partner - Head Litigation
Years with Firm:     13 years
Nationality:          Kenyan
Membership in Professional Societies:
•    Law Society of Kenya;
Key Qualifications:
Guto has worked in the Firm's Litigation and Arbitration department as well as the Consultancy Department. He has immersed vast experience in Dispute resolution, primarily in commercial litigation and arbitration, banking and finance, defamation, judicial review, employment law and professional negligence. Recent cases include a petroleum dispute, successfully defending a claim for over US$ 5million; successful defence of an employment claim for over Kshs 300 million; the prevention of an attempt to wind up a leading telecommunications company following a dispute for Kshs 2.9 billion; resisting a multi – billion judicial review application on behalf of a telecommunications company; defending a number of libel suits for a number of leading media houses.
Education:
Education:     Diploma in Legal Education
Institution:     Kenya School of Law
Year:         2007
Course:     Legal Practice
Education:     Bachelor of Laws (LLB)
Institution:     University of Manchester
Year:         2005
Course:     Undergraduate studies
Employment Record:
April 2012 to Date         Partner Mohammed Muigai  Advocates
February 2008 to April 2012    Associate, Mohammed Muigai Advocates
July 2005 to February 2008    Legal Assistant, Mohammed Muigai Advocates