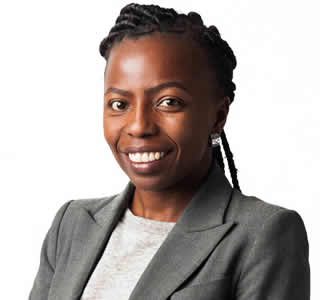 Wanjiru Ngige
Partner in charge of Legal Advisory and Consultancy
Years with Firm:     9 years
Nationality:          Kenyan
Membership in Professional Societies:
•    The Honourable Society of Gray's Inn, England & Wales;
•    Law Society of Kenya;
•    East African Law Society; and
•    International Bar Association.
Key Qualifications:
Ms. Wanjiru is an Advocate of the High Court of Kenya. She holds an LLB and M.A. in International Relations both from Keele University. She also holds a Bachelor of Civil Law Masters Degree from the University of Oxford. She has experience in Litigation & Arbitration (Civil and Commercial dispute resolution); Legal Consultancy and Advisory, Energy Law/Petroleum Contracts; Constitutional Law; Intellectual Property; Employment Law and Retirement Benefits.
Education:
Education:     Bachelor of Civil Law
Institution:     University of Oxford
Year:         2013
Course:
Education:     Diploma in Legal Education
Institution:     Kenya School of Law
Year:         2008
Course:     Legal Practice
Education:     London Bar Vocational Course
Institution:     Inns school of Law London
Year:         2007
Course:     Bar Vocational Course
Education:     M.A. International Relations
Institution:     Keele University
Year:         2006
Course:     International Relations
Education:     Bachelor of Laws (LLB)
Institution:     Keele University
Year:         2005
Course:     Undergraduate studies
Employment Record:
•    2016 to date : Partner, Mohammed Muigai Advocates
•    2010: Associate, Mohammed Muigai Advocates
•    Jan 2009 to March 2010: Legal Assistant, Mohammed Muigai Advocates
•    Aug 2013 to date: Adjunct Lecturer, Strathmore University
•    July 2007 – Oct 2008: Communications Consultant, Africa Practice Ltd, (UK)